One of the elements of Trainers Elite's Accelerated Fighting System is Muay Thai – The Art of 8 Limbs – punches, elbows, kicks & knees all X 2.  Add the clinch game with takedows & your stand-up game is nearly complete. GM Browining established a close personal & professional relationship with Saekson Janjira, 5 x Muay Thai World Champion, in 2000 when Saekson was sent to GM Browning's Trainers Elite gym in Dallas, TX.  During Saekson's time at GM Browning's gym they taught side by side – 2 of the best in the world doing what they do best.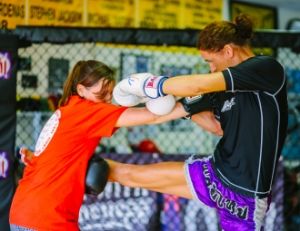 Our instructor, Tabitha Browning, has trained with Saekson Janjira since July 2007 through seminars & class training and has traveled to Thailand twice for training camps and plans to return to Thailand before the year's end to train & fight.
Our Muay Thai classes are part of our full MMA program.